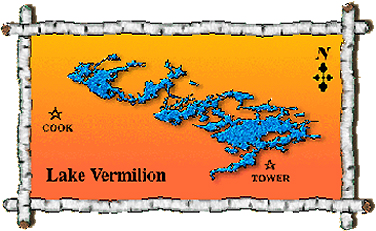 The 2022 / 28th Annual Ice-Out Contest
Is Now Closed! Click HERE To See Who WON!!
How about fishing LAKE VERMILION?
Lake Vermilion Lakeshore Services

In the 1940's many folks declared Lake Vermilion one of the top ten most scenic lakes in the United States. And it still is today. With its 40,000 acres of water, 365 islands and 1200 miles of shoreline, it stretches 40 miles across the heart of Minnesota's Arrowhead Region. This web site is intended to bring together all the resources you'll need to plan and have a wonderful Lake Vermilion experience..
What's there to know about LAKE VERMILION
cellpadding="5"

Photos on and around the lake and fish pics



Assorted Info On & Around The Lake
Where can you stay on the lake?
Lake Vermilion Area Services