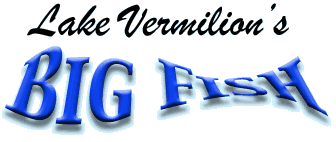 While sitting around this winter with some of Lake Vermilion's best fishing guides, I asked them about the biggest fish ever taken out of the lake. Are there records kept anywhere? No one knew of any formal list - just stories told and retold. So I decided to start keeping better records for all to share.
If you have a big fish story, please share it with us. If you have a picture to document the catch, send it along and we'll put it up too.
They all agreed on these being close to the largest:


Walleye
Muskie
Small Mouth Bass
Northern
Crappie
Perch
Bluegill

13 lbs
56"
6 1/2 lb - 22"
48"
16"
1 1/2 lb - 14"
13"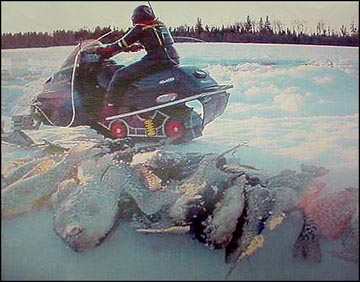 (photo compliments of Jerry Pfremmer)


Jerry has found the big ones on the lake - so big he has to pull them out with his snowmobile. Ask Jerry how he does it - just don't tell him I told you. Let's keep it our secret. ;<)