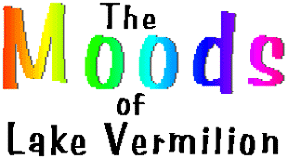 Lake Vermilion has many moods. And with each that we experience, we try to capture the memory of that moment. Most of these experiences are only recorded on the neurons of our minds - shared with friends only by words. And words cannot convey all that we've seen and felt - only the highlights. How many times have we asked ourselves, "Why didn't I have a camera along to take a picture of that?"


Gary Nordlie spent a lot of time on Lake Vermilion. He was one of its premier fishing guides. While he was guiding on the lake, he carried a camera to capture his experiences so he could share them with others. He was kind enough to share with us some of the moods of the lake he'd been part of.


When he was not guiding, Gary taught school in southern Minnesota.


Here are versions of some of the pictures Gary shared. Click on any one of them to see a larger version.
all photos © Gary Nordlie, Owatanna, MN